Charles Paris
Lead Developer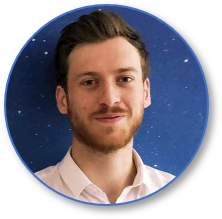 Areas of expertise
IT Development

Cloud Infrastructure Management

Supervision of developers

Systems Lifecycle

Blockchain
Charles is the Lead Developer at IZNES. Rich in past experiences as Data Process Blockchain Developer (then Tech Lead) at Peculium, Fullstack Developer at Mstaff as well as in various projects in Crypto-Currencies, challenge and permanent adaptability are his main strengths to respond to technical issues (infrastructure , software application, blockchain) related to the sector.
Publications
Les équipes financières d'Engie ont finalisé il y a peu le déploiement de la plateforme Iznes, dont la technologie blockchain leur a permis d'optimiser considérablement leur processus de placement de trésorerie de court terme. Grâce à cet outil, l'entreprise s'est par ailleurs affranchie de frais de conservation de titres très importants. Pour la direction de la trésorerie d'Engie, et plus particulièrement le département dédié à la liquidité de court terme de l'entreprise, l'année 2020 aura été placée sous le sceau de l'innovation. Après plusieurs mois de travail, celle-ci a récemment achevé le déploiement de la plateforme blockchain paneuropéenne Iznes, dédiée à la réalisation et au traitement des investissements en parts de fonds monétaires. Une initiative récompensée par le premier prix lors de la quatrième édition des Finance Awards du groupe.

IZNES choisie par la Banque de France pour réaliser des transactions sur parts de fonds pour la première fois en monnaie numérique de banque centrale. Dans le cadre du programme d'expérimentation piloté par la Banque de France, plus d'une dizaine de transactions sur parts de fonds, pour un montant global supérieur à deux millions d'euros, ont été réalisées en décembre 2020 sur la plateforme IZNES en utilisant de la monnaie numérique de banque centrale (MNBC). Il s'agit du premier règlement de parts de fonds à l'aide de MNBC.

Generali et le Groupe APICIL entrent au capital d'IZNES, plateforme paneuropéenne d'achat et de vente d'OPC[1] utilisant la technologie blockchain. Créée en 2017 par un consortium de six sociétés de gestion, IZNES est aujourd'hui soutenue par deux nouveaux investisseurs de renom qui entrent à son capital : Generali et le Groupe APICIL, via son fonds dédié Insurtech Capital. Ils deviennent respectivement le premier assureur et le premier groupe de protection sociale à entrer au capital de la Fintech. Ce partenariat stratégique donne un coup d'accélérateur au développement d'un nouvel écosystème en blockchain pour le traitement des opérations sur OPC.
contact details
20-22 Rue Vernier, Paris 75017
Feedback
If you would like more information or a free demonstration, please fill out the form: