Securities-related projects at the time of selection
May 28, 2020
Posted by:

IZNES

Categories:

Innovation, MDBC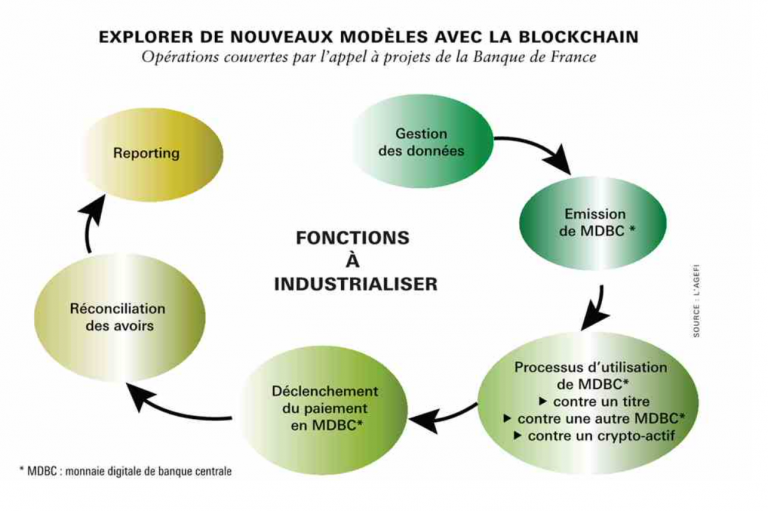 BY FRÉDÉRIQUE GAROUSTE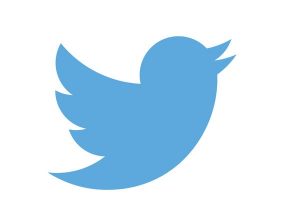 @GarrousteFreder
+ EMAIL [email protected]
The prospect of unwinding trade with a central bank currency stimulates initiatives in the quest for the right model.
Guaranteed boiling for the entire blockchain ecosystem with the call for projects from the Banque de France, which received applications until May 15. "The competition will select up to ten use case experiments using euros issued by the Banque de France via the blockchain for financial exchanges", recalls Thibaud de Lajudie, partner, Ailancy.
In securities, where the blockchain promises answers adapted to the needs of record keeping and distribution and information reconciliation, experimenting with payment in digital central bank money (MDBC) to settle settlement would represent a decisive step. "This is a real revolution that will bring simplicity and ease to our operations," said Christophe Lepitre, President of Iznes, a blockchain fund record keeping and distribution solution. Such a solution would provide unparalleled security for exchanges.
"Instead of involving, as is often the case, an issuer of 'tokens' which represents a counterparty risk, the platform will move securities against central bank money," said Jean-Pierre Grimaud, CEO of OFI AM, a shareholder of Iznes and NowCP.
This will encourage projects that are all looking for each other and struggling to mobilize resources. "The blockchain initiatives on securities and market operations have all fallen behind with the crisis, with players shifting their priorities and postponing planned developments to access these platforms," notes Jean-Pierre Grimaud. The Iznes solution has nevertheless been in production for fund unit record keeping and distribution since the fall of 2019. It aims to facilitate access to funds for investors, with a less costly service. Launched in 2017 by six fund managers (OFI AM, Groupama AM, La Financière de l'Echiquier and Arkéa IS, joined by Lyxor and La Banque Postale AM), the platform saw its blockchain solution operator, Setl, run into difficulties last year and took over the technology internally. It now handles around 20 fund shares and has traded more than €5 billion since the beginning of the year. Now expected in the short term, the investment firm license should convince new participants.
Life insurers are very interested in our solution for their unit-linked (UC) offerings because they invest, in open architecture, in the funds of many external management companies that do not necessarily update their fund information, which poses operational problems," explains Christophe Lepitre. We are going to start tests with two life insurers. »
UNLISTED AND MARKET GROUPS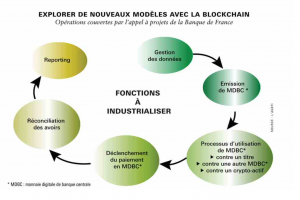 In Luxembourg, FundsDLT entered the same niche in 2016 and has just completed a round of financing with Credit Suisse AM, Clearstream, the Luxembourg Stock Exchange and Natixis IM, which took longer than expected. The platform's very high level of operational security was a critical point in our decision to participate in the project," explains Joseph Pinto, Chief Operating Officer of Natixis IM. Using a private version of Ethereum gives the consortium control over node deployment and confidentiality. "This allows us to look beyond the local framework and accelerate developments. The objective is to increase our resources in order to be in production at the beginning of 2021 with concrete execution of the first use cases in the blockchain," announces Olivier Portenseigne, CEO. We have already identified these first uses with our pilot customers. »
Several initiatives exist in unlisted securities. The Forge initiative, fintech launched by Société Générale, is dedicated to bonds and has just tested with the Banque de France a blockchain exchanging MDBC for digital financial securities. The Tokeny initiative aims to "tokenize" various underlying securities and has some forty clients in production, issuing or transforming securities into tokens. "For the moment, the most frequent use is the tokenization of closed-end funds to improve the transferability of shares on the secondary market," explains Luc Falempin, founding director of Tokeny. Already active in Asia, fintech acts as a technology supplier and does not preserve the assets it has "tokenized".
Projects are also coming from market groups, such as Registraccess, launched by the AFTI (French Association of Securities Professionals) a little over a year ago on movement orders, or Liquidshare (see 'La parole à...'), whose model is now closer to Tokeny's. "Originally, Liquidshare's goal was to ensure the holding of positions and the transfer of ownership in DLT of the securities of SMEs traded on Euronext. However, it appeared that participants would have had to make significant investments to connect to the new platform without being able to benefit from real efficiency gains, which called into question the initial project," said Eric de Nexon, Director of Public Affairs and Regulation at SGSS, and Laurent Marochini, Head of Innovation at SGSS Luxembourg. Hence the choice to focus on STO ('security token') issues, which represent financial instruments: the asset is encapsulated in a token. "The solution does not need to create a central depository. So the projects have moved forward even though the technology is still a gamble. "The cost-saving promise of these innovations remains to be demonstrated, as most block-chain initiatives are in the pilot phase or deployed on a small scale. The operation of a blockchain also has a cost, and it is not necessarily the only answer to improving the operation of post-trade processes," recalls Antoine Pertriaux, founder of the Alvae research office.
In fund distribution, DLT solutions would not yet offer the same level of service as custodians. The Iznes platform in Paris or FundsDLT in Luxembourg are transfer agent platforms with registered shares," say Eric de Nexon and Laurent Marochini. They are supposed to facilitate the identification of unit holders, provided that they are directly registered on the platform and do not use an intermediary to hold their assets. To date, they are not yet as efficient as CSD (central depository) solutions in terms of the settlement-delivery process. »
REGULATORY FRAMEWORK
De facto, suite à la difficulté des avancées, un écré- mage des projets s'est opéré. « La blockchain est une technologie prometteuse mais il faut du temps pour construire de vrais projets innovants , indique Philippe Ruault, directeur de l'innovation chezBPSS.Nous pro- cédons par priorités et avons gelé le projet Planetfunds, sachant que nous explorons d'autres voies et options pour des solutions interopérables dans le domaine de la distribution de fonds. Nous participons notamment à Registraccess, très spécifique, et sommes très investis dans Liquidshare. De même, nous développons de nouveaux services en Australie, basés sur la transformation de l'Australian Securities Exchange et son partenariat avec Digital Assets Holdings. » Euronext également mise sur plusieurs projets pour accroître ses chances d'être là au moment du succès. « L'intérêt d'Euronext pour la blockchain va de pair avec sa stratégie post- trade, le groupe est actionnaire de Liquidshare et de Tokeny, l'un en utilisant une blockchain privée et l'autre publique, ce qui nous offre une vision large de ces infrastructures qui sont encore en phase d'explorations, indique Pierre Davoust, responsable du développement chez Euronext. Beaucoup d'initiatives ont été lancées ces dernières années et il nous semble qu'elles sont moins nombreuses et plus solides à présent. »
They could also one day benefit from a regulatory framework allowing them to take over listed securities. "The blockchain calls into question the relevance of certain aspects of MiFID 2 and CSDR regulations, the costs of which are significant for the financial sector and ultimately for investors," Thibaut de Lajudie points out. This is the idea behind the recommendations made by the Autorité des marchés financiers in its report last March, suggesting a lighter European framework to allow initiatives to develop.